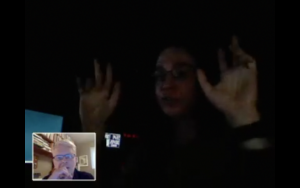 Hi TLSers!
Well, this is a first. Arda Gale, a TLS member, works in an observatory and we thought it would be cool to interview her by video so we could see her in her work environment and that maybe she could give us a tour.
We were starting it as a test run and then thought, what the heck, let's keep this going and if it works it works!
It worked!
Listen to this: it's dark where she works so that when she goes outside to observe the skies her eyes don't have to adjust as much. How cool is that??
You can watch it HERE.
So here we are posting our interview, that I thoroughly enjoyed, that lasts just over 20 minutes.
We talked about some pretty fascinating things.
Plus we just get to know Arda a little better. And perhaps me too!
Love you guys!
(PS: This is for TLS only, so please don't share it. Thanks!)