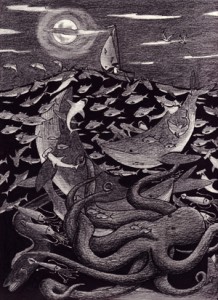 Hi Everyone:
I did this drawing the other day called "The Voyage of Saint Brendan". I was thinking of you guys while I drew it because he totally reminds me of us! So I'm giving you a free high-quality download of it to use on your devices or to print out. This is a $40 value! I hope you enjoy it. CLICK HERE to download!
This is what I wrote about Brendan on nakedpastor!
Many years ago I read Frederick Buechner's delightful novel, Brendan: A Novel
… his account of the life of Saint Brendan (c. 484 – c. 577).
I immediately saw this image in my mind and sketched it out. So many years later and I finally draw the completed image.
The story of Brendan intrigues me because of his courage. He set sail looking for Paradise. Of course, his story is now surrounded with legend, but the gist of it remains: he took incredible risks to find his true home.
The creatures represent the dangers both seen and unseen. The moon signifies that we often have little if any light. The elements suggest that this is not going to be easy or comfortable. The sea gulls suggest that perhaps land is not too far off.
You have left the comfort and security of your established homes… in belief, faith, religion, church, family, conformist behavior… you name it!… and are looking for a land you can call your own. It takes a lot of courage to face the risks and dangers that accompany such spiritual explorations and exploits.
I'm proud of you!
ALSO SOME ANNOUNCEMENTS:
We are having a video potluck this coming Sunday, December 6, 2015, and its theme is "Sharing Our Stories: Holidays with Family". We know how risky it can be for some of us to navigate the potentially treacherous waters of conflicting beliefs. I'm looking forward to seeing you guys. It's for TLS MEMBERS ONLY! See you there this coming Sunday… 1pm Atlantic, 12pm Eastern, 11am Central, 10am Mountain, 9am Pacific! Here's the link for the conference –> CLICK HERE!
We are renewing our memberships! The price has been raised for new members and we're inviting you existing members to check out this page about renewals to see what you can do. Thanks so much! READ THIS POST and follow the links if you want all the explanations.
That's it guys! Don't forget to download your Brendan picture!!
Love,
David